You know regular exercise can help you live longer, feel better, and be more productive at home and work, right? So what's keeping you from getting out there and doing something RIGHT NOW?
A big part of what keeps people from exercising is fear. Fear of failure, fear that you can't do what you used to do, or fear that you will never be as good at it as you want to be. YOU ARE NOT ALONE. Even experienced exercisers have to overcome their fears on a regular basis. Try not to be too hard on yourself if exercising does not come naturally to you -- changing your behavior is one of the hardest things you can do. It can be especially difficult if the people around you, such as members of your family, do not exercise.
"I have been running most days of the week for more than 2 years now, and I love it. But I still have to talk myself into it each time. Usually, part of that includes telling myself that it is OK if I have to walk, instead of running the whole way."
-- David, age 33
What motivates you?
For many people, the hardest part of exercising is getting out the door. Just about everyone who exercises struggles with this once in a while -- getting motivated each day can be really tough! And what motivates your friend to go running each day may not work for you.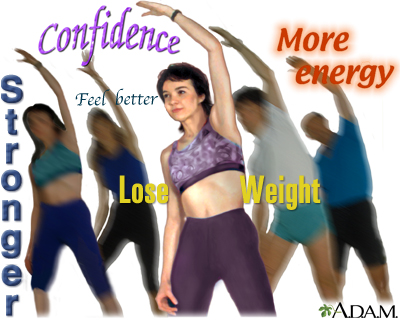 We asked people what gets them going, and below is a sample of their responses:
"I feel a lot better after exercising -- it leaves me more positive, happier, and less stressed."
"Exercise helps me sleep better, which in turn gives me more energy the next day. I hate feeling tired at work."
"I enjoy spending time by myself first thing in the morning."
"I have family members who've had heart attacks, and I am doing what I can to keep that from happening to me."
"I want to be healthy as I get older. I don't want to lose my ability to stay active."
"There are several people I exercise with, and I enjoy their company. It gives us something to do together on a regular basis."
"I feel the results immediately -- I feel like I have more energy."
Know what to expect
Exercise is different for everyone, but there are a few experiences we all have in common. Knowing what to expect can make exercise less intimidating:
The first few minutes of any activity are usually the hardest. If you can continue to exercise past this initial discomfort, you may be surprised at how much easier it becomes.
You will sweat.
You will get tired the first few times you do a new activity.
You will breathe heavily (but you shouldn't work so hard that you have to gasp for air).
You will make rapid progress at first, then level off (or plateau). If you continue to exercise, you will continue to improve, just not as quickly as in those first few weeks.
You may get a "stitch" -- a pain in your side that goes away after you stop exercising. (This often happens when you push yourself beyond your limits. Slow down and breathe deeply until it goes away. If the stitch does not go away after you stop exercising, or recurs during rest, seek medical attention.)
Even moderate physical activity can help you live longer and better. The more active you are, the greater the benefits are to you. Take it slow, and don't push yourself too hard.
---
Review Date: 6/28/2011
Reviewed By: Jeffrey Heit, MD, Internist with special emphasis on preventive health, fitness and nutrition, Philadelphia VA Medical Center, Philadelphia, PA. Review provided by VeriMed Healthcare Network. Also reviewed by David Zieve, MD, MHA, Medical Director, A.D.A.M., Inc.
The information provided herein should not be used during any medical emergency or for the diagnosis or treatment of any medical condition. A licensed medical professional should be consulted for diagnosis and treatment of any and all medical conditions. Links to other sites are provided for information only -- they do not constitute endorsements of those other sites. © 1997- A.D.A.M., a business unit of Ebix, Inc. Any duplication or distribution of the information contained herein is strictly prohibited.