Back surgery
Introduction
The purpose of this tool is to help you decide whether or not to have back surgery. When making a decision like this, you must balance:
The reasons for having the procedure
The potential health risks, drawbacks, or limitations of the procedure
Whether there are alternative procedures that may be more appropriate
Cost
This tool is not a substitute for professional medical care and advice. Work with your doctor to help you make this decision. A second opinion from another doctor may be valuable. There is usually no exact "right" or "wrong" answer.
Your doctor may make certain recommendations to you. However, the final decision about whether to have this surgery rests with you.
What is the surgery?
Back surgery can correct problems with the spinal bones (vertebrae), disks, or nerves of the lower back (lumbar spine).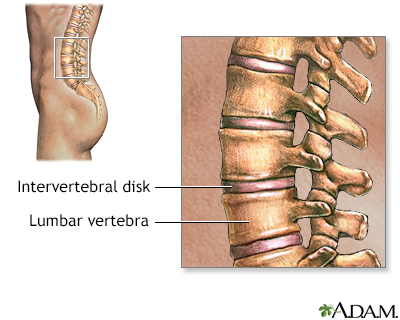 Symptoms of lumbar spine problems include:
Pain that extends (radiates) from the back to the buttocks or back of the thigh
Pain that interferes with daily activities
Weakness of legs or feet
Numbness of legs, feet, or toes
Loss of bowel or bladder control
Lumbar spinal surgery is done while the patient is under general anesthesia (unconscious and pain-free). An incision is made over the troubled area. The bone that curves around and covers the spinal cord (lamina) is removed (laminectomy), and the tissue that is causing pressure on the nerve or spinal cord is removed.
The hole through which the nerve passes may be enlarged to prevent further pressure on the nerve. Sometimes, spinal fusion is necessary to stabilize the area. This tool will focus on open back surgery (diskectomy) and laminectomy.
Key points
Patients with pain in their neck or back should usually receive conservative treatment before considering surgery. Limited bedrest, anti-inflammatory medications, pain shots, physical therapy, braces, traction, and exercise are typical conservative treatments for back pain.
Debilitating pain is the most frequent reason for spine surgery. If you can tolerate your pain, you should strongly consider conservative treatments first before asking your doctor about surgery.
In general, back surgery is more successful when leg pain is a major symptom.
Your doctor may recommend a surgical diskectomy (removal of the disk) if an MRI shows you have a herniated disk, you have had symptoms for at least 6 weeks, and conservative treatment has failed.
Your doctor may recommend laminectomy (removal of the bone that forms the roof of the spinal canal) if the center of the spinal canal is narrow, the nerve root is compressed, or you have cauda equina syndrome. Symptoms of cauda equina syndrome, an emergency situation, are dull back pain, numbness in the buttocks, and inability to control urination and defecation.
If you decide to have back surgery, make sure that you have trust and confidence in your surgeon and their treatment plan. If you do not, consider looking for another surgeon. If you are unsure, a second opinion may help reassure that you are making the right decision.
If you smoke, you should quit before having spine surgery. Smoking significantly increases your risk for complications, particularly if the surgery requires the fusion of two or more bones to each other.
Factors such as anxiety, depression, and stress can play a very important role in back pain patients. If you have such problems in addition to your back problem, you should be treated for all of your health problems at the same time to get the best results.
In rare cases, surgery may be the first treatment option. This usually happens after a significant injury, such as a fracture or a severely slipped disk (herniation), particularly if there is an injury to a nerve or the spinal cord. Surgery may also be necessary if you have a tumor or infection.
To have lasting pain relief after surgery, you should develop strong back and abdominal muscles through exercise, use good posture, lose weight, or limit activities like twisting and lifting that stress the back.
Make sure you understand the risks before having spine surgery. Potential complications include the surgery failing to improve your pain, a fracture not healing properly, infection, bleeding, and injury to the nerves or spinal cord. Before you have any surgery, you should weigh the risks and benefits against each other.
How much time this decision tool will take
What this tool will provide
A personalized list of factors for you to weigh
Questions to ask your doctor
Alternatives to this surgery
Recommended reading
---
Review Date: 12/31/2010
Reviewed By: David C. Dugdale, III, MD, Professor of Medicine, Division of General Medicine, Department of Medicine, University of Washington School of Medicine. Previously reviewed by Thomas N. Joseph, MD, Private Practice specializing in Orthopaedics, subspecialty Foot and Ankle, Camden Bone & Joint, Camden, SC. Review provided by VeriMed Healthcare Network (10/20/2008).
References:
Mannion AF, Elfering A. Predictors of surgical outcome and their assessment. Eur Spine J. January 2006; 15 Suppl 1:S93-108.
Atlas SJ, Keller RB, Wu YA, Deyo RA, Singer DE. Long-term outcomes of surgical and nonsurgical management of lumbar spinal stenosis: 8 to 10 year results from the Maine lumbar spine study. Spine. April 15, 2005;30(8):936-43.
McLain RF. Functional outcomes after surgery for spinal fractures: return to work and activity. Spine. February 15, 2004;29(4):470-7.
Katz JN, Stucki G, Lipson SJ, Fossel AH, Grobler LJ, Weinstein JN. Predictors of surgical outcome in degenerative lumbar spinal stenosis. Spine. November 1, 1999;24(21):2229-33.
Koes BW, van Tulder MW, Ostelo R, et al. Clinical guidelines for the management of low back pain in primary care. Spine. 2001;26(22):2504-2514.
Spangfort EV. Acta Orthop Scand Suppl. 1972:142:1.
Awad JN, Moskovich R. Clin Orthop Relat Res. 2006 Feb;443:183-97.
The information provided herein should not be used during any medical emergency or for the diagnosis or treatment of any medical condition. A licensed medical professional should be consulted for diagnosis and treatment of any and all medical conditions. Links to other sites are provided for information only -- they do not constitute endorsements of those other sites. © 1997- A.D.A.M., a business unit of Ebix, Inc. Any duplication or distribution of the information contained herein is strictly prohibited.