Prostate cancer test
Introduction
The purpose of this tool is to help you decide whether or not to have testing for prostate-specific antigen. When making a decision like this, you must balance:
The reasons for having the test
The potential health risks, drawbacks, or limitations of the procedure
Whether there are alternative procedures that may be more appropriate
Cost
This tool is not a substitute for professional medical care and advice. Work with your doctor to help you make this decision. A second opinion from another doctor may be valuable. There is usually no exact "right" or "wrong" answer.
Your physician may make certain recommendations to you. However, the final decision about whether to have this test rests with you.
What is the test?
The PSA test measures the amount of PSA (prostate-specific antigen) in the blood.
A high PSA level has been linked to an increased chance of having prostate cancer, but it does not mean that the person definitely has cancer. Several conditions besides cancer can cause the PSA level to rise. These include a urinary tract infection, benign prostatic hypertrophy (BPH -- an enlarged prostate), and prostatitis (an infection in the prostate).
PSA is a glycoprotein (a protein with a sugar attached) found in prostate cells. It can be detected at a low level in the blood of all adult men.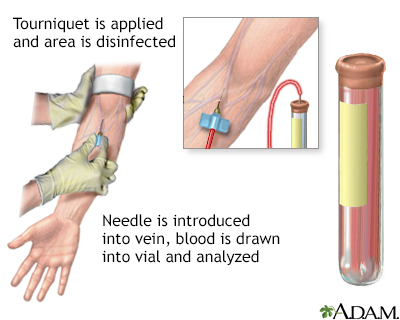 Only a biopsy can detect prostate cancer, usually after PSA testing or a digital rectal exam (DRE), suggests that cancer or an enlarged prostate may be present.
Key points
PSA screening has increased the number of patients being diagnosed with early stage prostate cancer.
Consideration of PSA screening should begin at age 50 for Caucasian men with no family history of prostate cancer.
Consideration of PSA screening should start at age 40 for African American men and Caucasian men with a family history of prostate cancer.
If the PSA level is elevated, your doctor may recommend a prostate biopsy.
Because there are non-cancerous causes for an elevated PSA level, many men with an elevated PSA may undergo a prostate biopsy unnecessarily.
Some men with "normal" PSA levels may have cancer.
How quickly PSA levels rise (PSA velocity) may be as important as the levels themselves.
Men with early-stage cancer who have slow-rising PSA levels are more likely to survive their cancer than are men with fast-rising levels.
How much time this decision tool will take
What this tool will provide
A personalized list of factors for you to weigh
Questions to ask your doctor
Alternatives to this test
Recommended reading
---
Review Date: 12/31/2010
Reviewed By: David C. Dugdale, III, MD, Professor of Medicine, Division of General Medicine, Department of Medicine, University of Washington School of Medicine. Previously reviewed by David R. Knowles MD, Advanced Urologic Surgeons, Mount Vernon, IL. Review provided by VeriMed Healthcare Network (10/6/2008).
References:
Thompson IM, Pauler DK, Goodman PJ, et al. Prevalence of prostate cancer among men with a prostate-specific antigen level less than or equal to 4.0 ng per milliliter. The New England Journal of Medicine. 2004;350(22):2239–2246.
Barry MJ. Prostate-specific-antigen testing for early diagnosis of prostate cancer. New England Journal of Medicine. 2001;344:1373-1377.
The information provided herein should not be used during any medical emergency or for the diagnosis or treatment of any medical condition. A licensed medical professional should be consulted for diagnosis and treatment of any and all medical conditions. Links to other sites are provided for information only -- they do not constitute endorsements of those other sites. © 1997- A.D.A.M., a business unit of Ebix, Inc. Any duplication or distribution of the information contained herein is strictly prohibited.