Colon cancer screening
Introduction
The purpose of this tool is to help you decide whether or not to have a colon cancer screening. When making a decision like this, you must balance:
The reasons for having the test
The potential health risks, drawbacks, or limitations of the procedure
Whether there are alternative procedures that may be more appropriate
Cost
This tool is not a substitute for professional medical care and advice. Work with your doctor to help you make this decision. A second opinion from another doctor may be valuable. There is usually no exact "right" or "wrong" answer.
Your physician may make certain recommendations to you. However, the final decision about whether to have this test rests with you.
What is the test?
If you are older than 50, your doctor will recommended that you have a colon cancer screening, to detect polyps and early cancers that can be treated before symptoms develop. If you have certain risk factors, you will need to start screening earlier or have screening tests more often. Regular screenings may decrease deaths and prevent suffering caused by colorectal cancer. This type of screening is as effective in saving lives as breast cancer screening.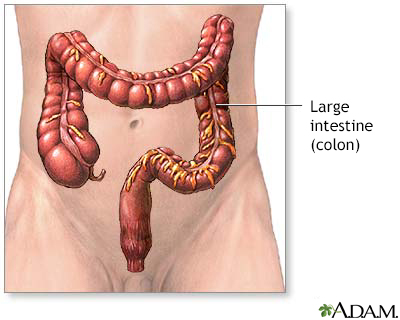 There are four ways to screen for colon cancer. The first is a stool test (to check for blood in the stool). Most doctors recommend this be done every 1 to 2 years.
The second method is a sigmoidoscopy exam (a test that uses a flexible small scope to look at the lower part of your colon), recommended every 5 years. Many health care providers recommend that the stool test and the sigmoidoscopy be used together.
The third method is a colonoscopy exam. A colonoscopy is similar to a sigmoidoscopy, but it allows your health care provider to view the entire colon. The patient usually is mildly sedated during a colonoscopy.
A fourth test is a double-contrast barium enema. This test is performed in the x-ray department. It does not require sedation, but you do need to prepare for the test by taking a laxative. Unlike with a colonoscopy, the doctor cannot remove, treat, or take a biopsy of any suspicious lesions or polyps during this test.
A fifth test is virtual colonoscopy. This test is performed in the x-ray department. This test combines computed tomography (CT) scans with sophisticated computer software. The test produces three-dimensional images of your colon and rectum on a computer screen. It is less invasive than regular colonoscopy.
Key points
There are over 140,000 cases of colorectal cancer diagnosed in the U.S. each year, and almost 50,000 deaths. Colorectal cancer is the third leading cause of cancer deaths. In almost all cases, however, this disease is entirely treatable if caught early by colonoscopy.
Because most colon cancers begin as growths called polyps, finding and removing polyps by colonoscopy can decrease the risk of getting colon cancer in the first place.
Colonoscopy is the most thorough method of screening for colon cancer, but it takes longer, usually requires sedation, and is slightly riskier [rarely, the bowel can be perforated (a tear) or bleeding can occur]. Colonoscopy also requires more preparation by the patient and is much more expensive than a sigmoidoscopy.
Other methods of colon cancer screening have much higher "miss" rates than colonoscopy. Sometimes these other tests can miss cancer or advanced precancerous polyps that may soon develop into cancer. Colonoscopy, however, is also not a perfect test. Sometimes (although up to 10 percent of the time) colonoscopy can also miss a tumor.
Other screening methods do not allow for treatment or removal of problems, which is possible during a colonoscopy. Therefore, when a barium enema, sigmoidoscopy, or stool test show that cancer or a polyp might be present, the patient usually needs a follow-up colonoscopy.
Colonoscopy is the standard test for people at high risk for colorectal cancer, including those with inflammatory bowel disease, prior polyps, a family history of colorectal cancer or adenomas (precancerous polyps), or polyposis syndromes.
How much time this decision tool will take
What this tool will provide
A personalized list of factors for you to weigh
Questions to ask your doctor
Alternatives to this test
Recommended reading
---
Review Date: 12/31/2010
Reviewed By: David C. Dugdale, III, MD, Professor of Medicine, Division of General Medicine, Department of Medicine, University of Washington School of Medicine. Previously reviewed by Todd Eisner, MD, Private practice specializing in Gastroenterology, Boca Raton, FL. Clinical Instructor, Florida Atlantic University School of Medicine. Review provided by VeriMed Healthcare Network (10/18/2008).
References:
Winawer S, Fletcher R, Rex D, et al. Colorectal cancer screening and surveillance: Clinical guidelines and rationale -- Update based on new evidence. Gastroenterology. 2003;124:544.
Lieberman DA, Weiss DG, Bond JH, et al. Use of colonoscopy to screen asymptomatic adults for colorectal cancer. Veterans Affairs Cooperative Study Group 380. New England Journal of Medicine. 2000;343:162.
Desch CE, Benson AB 3rd, Somerfield MR, et al. Colorectal cancer surveillance: 2005 update of an American Society of Clinical Oncology practice guideline. Journal of Clinical Oncology. 2005;23:8512.
Svensson MH, Svensson E, Lasson A, Hellstrom M. Patient acceptance of CT colonography and conventional colonoscopy: prospective comparative study in patients with or suspected of having colorectal disease. Radiology. 2002;222:337.
Gluecker TM. Colorectal cancer screening with CT colonography, colonoscopy, and double-contrast barium enema examination: prospective assessment of patient perceptions and preferences. Radiology. 2003;227:378.
Akerkar GA, Yee J, Hung R, McQuaid K. Patient experience and preferences toward colon cancer screening: a comparison of virtual colonoscopy and conventional colonoscopy. Gastrointest Endosc. 2001;54:310.
The information provided herein should not be used during any medical emergency or for the diagnosis or treatment of any medical condition. A licensed medical professional should be consulted for diagnosis and treatment of any and all medical conditions. Links to other sites are provided for information only -- they do not constitute endorsements of those other sites. © 1997- A.D.A.M., a business unit of Ebix, Inc. Any duplication or distribution of the information contained herein is strictly prohibited.