Obesity specialist
Introduction
The purpose of this tool is to help you decide whether or not to see an obesity specialist. When making a decision like this, you must balance:
The reasons for seeing the specialist
The potential health risks, drawbacks, or limitations of the specialist
Whether there are alternative specialists that may be more appropriate
Cost
This tool is not a substitute for professional medical care and advice. Work with your doctor to help you make this decision. A second opinion from another doctor or specialist may be valuable. There is usually no exact "right" or "wrong" answer.
Your physician may make certain recommendations to you. However, the final decision about whether to see a specialist rests with you.
What does this specialist do?
More than half of the U.S. population is overweight. But being obese is different from being overweight. An adult male is considered obese when his weight is 20% or more over the maximum desirable for their height, according to his body mass index. A woman is considered obese at 25% or more than this maximum weight. Anyone more than 100 pounds overweight is considered very obese.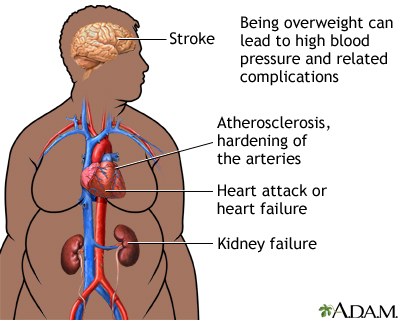 You may want to contact an obesity specialist if you are unable to lose weight on your own. The doctor will obtain a medical history and perform a physical examination. You will likely undergo skin fold measurements to assess body composition. You may also need blood studies to test for diabetes and high cholesterol.
You and the specialist can work together to create an appropriate treatment plan. Medications are usually not recommended to aid intentional weight loss. They often cause harmful side effects or adverse reactions. At best, the drugs control appetite only for short time periods and don't help change eating habits.
Gastric bypass surgery may be an option for the very obese.
Key points
Being obese puts you at higher risk for many significant health problems, such as:
Weight gain in the area of the waist and above (apple type) is more dangerous than weight gained around the hips and flank area (pear type). Fat cells in the upper body have different qualities than those found in hips and thighs.

To measure your waist circumference: Wrap a tape measure around your middle at the level of your belly button. The risk of heart disease and diabetes increases if your waist circumference is more than 35 inches (88 cm) for a woman and more than 40 inches (102 cm) for a man. You should strive for a waist size of less than 31.5 inches if you are a woman and less than 37 inches if you are a man.
To measure your waist-to-hip ratio: Measure your hip circumference at the level of the two bony prominences felt in the front of your hips. Then, divide your waist circumference by your hip circumference. Your waist-to-hip ratio should be below 0.8 for a woman and below 1.0 for a man.

Losing weight can help you lower your blood pressure, reduce levels of total cholesterol and triglycerides, and raise low levels of "good" HDL-cholesterol.
Losing weight can help lower high blood glucose levels if you weigh too much and have type 2 diabetes.
To lose weight, you must burn more calories than you consume. This sounds simple, but it is not easy.
Changing your lifestyle is essential for losing weight and keeping it off. There is no way around this, even with medicine or surgery.
Belief in yourself and in your weight loss approach are important first steps toward successful weight loss.
Avoid yo-yo dieting and fads. To lose weight in a healthy way and keep it off, aim for no more than two pounds per week.
Exercise is essential for weight loss. Start out with low-impact activities to protect your joints. Build up slowly, adding more vigorous activity as you shed the pounds.
When losing weight, you must not only eat fewer calories, but make sure that your diet has a balance of essential nutrients, including vitamins and minerals.
Substitute whole grains, fruits, and vegetables for fat and sugar.
Keep track of what you are eating and when, especially in the beginning. This can help you identify problem foods and problem times of day. Counting calories, however, quickly becomes tedious and does not guarantee a healthy, balanced diet.
How much time this decision tool will take
What this tool will provide
A personalized list of factors for you to weigh
Questions to ask your doctor
Alternatives to seeing a specialist
Recommended reading
---
Review Date: 9/12/2010
Reviewed By: Linda J. Vorvick, MD, Medical Director, MEDEX Northwest Division of Physician Assistant Studies, University of Washington, School of Medicine. Also reviewed by David Zieve, MD, MHA, Medical Director, A.D.A.M., Inc.
References:
Leslie D. Bariatric surgery primer for the internist: keys to the surgical consultation. Med Clin North Am. 2007; 91(3):353-381, x.
Svetke, LP, Stevens VJ, Brantley PJ, et al. Comparison of strategies for sustaining weight loss: the weight loss maintenance randomized controlled trial. JAMA. 2008;299(10):1139-48.
Thompson WG, Cook DA, Clark MM, et al. Treatment of obesity. Mayo Clin Proc. 2007;82(1):93-101.
The information provided herein should not be used during any medical emergency or for the diagnosis or treatment of any medical condition. A licensed medical professional should be consulted for diagnosis and treatment of any and all medical conditions. Links to other sites are provided for information only -- they do not constitute endorsements of those other sites. © 1997- A.D.A.M., a business unit of Ebix, Inc. Any duplication or distribution of the information contained herein is strictly prohibited.