Erectile dysfunction medications
Introduction
The purpose of this tool is to help you decide whether erectile dysfunction medication is right for you. When making a decision like this, you must balance:
The reasons for taking the medication
The potential health risks, drawbacks, or limitations of the procedure
Whether there are alternative procedures that may be more appropriate
Cost
This tool is not a substitute for professional medical care and advice. Work with your doctor to help you make this decision. A second opinion from another doctor may be valuable. Medication always has potential side effects, and you should be fully informed about the risks and benefits of this type of medication. There is usually no exact "right" or "wrong" answer.
Your physician may make certain recommendations to you. However, the final decision about whether to use this medication rests with you.
What is the medication?
An erection problem is the inability to get or maintain an erection that is firm enough for a man to have intercourse. You may be unable to get an erection at all, or you may lose the erection during intercourse before you are ready. If the condition persists, the medical term is erectile dysfunction (ED).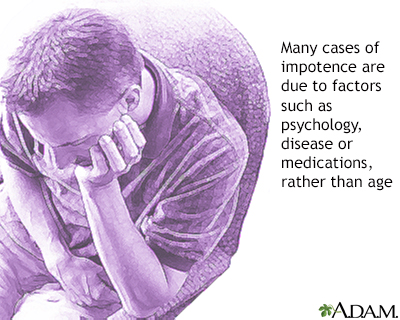 Many treatment options are available. These include medicines taken by mouth, injected into the penis, vacuum devices, and surgery. In order to treat erectile dysfunction effectively, you must be aware of and comfortable with the possible side-effects and complications that may occur with each therapy.
Sildenafil (Viagra), vardenafil (Levitra), and tadalafil (Cialis) are medicines taken by mouth prescribed for mild-to-moderate erection problems caused by either physical or psychological problems. All three belong to a class of medications called PDE5 inhibitors. Although these medicines have become extremely popular, they are not cure-alls, and they do not enhance erections if you are not impotent. These medications also have side effects.
These pills should not be used with certain other medications. For instance, men who take nitroglycerin for a heart condition (either as tablets, spray, or patches) should NOT take these medications. When taken with nitroglycerin, these drugs can significantly lower blood pressure. Some men have died from combining these drugs and nitroglycerin.
If pills do not work, other options are available. Testosterone may be prescribed by either skin patch or injection, if the problem is related to testosterone deficiency. Alprostadil, injected at the penis or inserted as pellets, improves blood flow to the penis. This technique is usually more effective than medications taken by mouth.
This tool will mostly focus on pills for ED.
Key points
Medications can help men of all ages who have partial erections or no erections on their own.
Medications can help men with erectile dysfunction due to many causes, including prostate surgery, stroke, diabetes, and high blood pressure.
Some men may need to try ED medications several times before they can be determined effective or ineffective.
ED medications may limit the spontaneity associated with sexual activity.
Each medication has specific recommendations for usage that must be followed carefully.
These medications have a slight risk of causing a prolonged, painful erection (priapism) that requires emergency treatment.
Not all patients will respond to these medications.
ED medications may cause temporary, partial vision loss.
Cialis takes effect in 15 – 30 minutes. It is the only ED medication shown to improve erection problems in most men for up to 36 hours.
Levitra improves ED in up to 85% of men with the condition. It also may work well in men with diabetes and in those who have had radical prostatectomy surgery.
Viagra may help more than 70% of men with ED achieve sexual function.
How much time this decision tool will take
What this tool will provide
A personalized list of factors for you to weigh
Questions to ask your doctor
Alternatives to these medications
Recommended reading
---
Review Date: 9/19/2010
Reviewed By: David C. Dugdale, III, MD, Professor of Medicine, Division of General Medicine, Department of Medicine, University of Washington School of Medicine. Also reviewed by David Zieve, MD, MHA, Medical Director, A.D.A.M., Inc.
References:
Brant WO. Treatment options for erectile dysfunction. Endocrinol Metab Clin North Am. 2007 Jun 1;36(2):465-79.
Carson CC. PDE5 inhibitors: are there differences? Canadian Journal of Urology. 2006;13(Suppl 1):34-9.
McVary KT. Clinical practice. Erectile dysfunction. N Engl J Med. 2007 Dec 13;357(24):2472-81.
Montague DK, Jarow JP, et al. The management of erectile dysfunction: An update. American Urologic Association Education and Research, Inc. May 2006.
The information provided herein should not be used during any medical emergency or for the diagnosis or treatment of any medical condition. A licensed medical professional should be consulted for diagnosis and treatment of any and all medical conditions. Links to other sites are provided for information only -- they do not constitute endorsements of those other sites. © 1997- A.D.A.M., a business unit of Ebix, Inc. Any duplication or distribution of the information contained herein is strictly prohibited.