Angioplasty and stenting
Introduction
The purpose of this tool is to help you decide whether or not to have angioplasty or stenting. When making a decision like this, you must balance:
The reasons for having the procedure
The potential health risks, drawbacks, or limitations of the procedure
Whether there are alternative procedures that may be more appropriate
Cost
This tool is not a substitute for professional medical care and advice. Work with your doctor to help you make this decision. A second opinion from another doctor may be valuable. There is usually no exact "right" or "wrong" answer.
Your doctor may make certain recommendations to you. However, the final decision about whether to have this procedure rests with you.
What is the procedure?
Angioplasty is a medical procedure in which a balloon is inserted through a catheter and used to open narrowed or blocked blood vessels of the heart (coronary arteries). It is not considered surgery.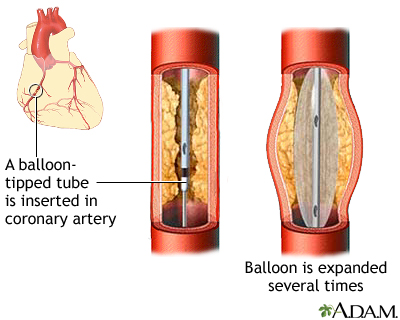 Fat and cholesterol can accumulate on the inside of arteries and form deposits called plaque. This disease process is called atherosclerosis. This accumulation can block or narrow arteries that supply blood to the heart.
If the blockage is not too severe, a balloon catheter may be used to open the heart artery as an alternative to open heart surgery. The catheter is a small, hollow, flexible tube that has a balloon near the end of it.
Angioplasty may treat:
Persistent chest pain (angina)
Blockage of one or more coronary arteries
Residual obstruction in a coronary artery during or after a heart attack
Doctors commonly use angioplasty to place stents in blocked arteries. A stent is a metal or plastic tube inserted into an abnormally narrowed or closed vessel (such as an artery) in the body. It serves to keep the vessel open and maintain blood flow.
Stents are most often used to open narrowed or blocked arteries. These small, self-expanding, metal mesh tubes can be placed permanently within an artery to prevent it from reclosing (restenosis).
Medicine and angioplasty with stenting have equal benefits. If you have coronary artery disease, angioplasty with a stent may not help you live any longer than taking medicine alone. Angioplasty and stenting, however, may be life-saving if you are having a heart attack.
Some stents are coated with medication (sirolimus or paclitaxel) to help prevent artery reclosure. This stent is left permanently in the artery, to slowly release a drug that prevents the build-up of tissue that leads to restenosis. Drug-coated stents may not be safe for some people. Your doctor will know more.
Key points
Angioplasty greatly improves blood flow through narrowed arteries and to the heart tissue about 90% of the time, and it may eliminate the need for coronary artery bypass surgery.
Angioplasty is considered the preferred procedure to treat most eligible patients with severe arterial blockages.
While angioplasty can be an elective procedure, if you are having a heart attack, your doctor may decide for you that emergency angioplasty, particularly with stenting, may be the best way to keep you alive.
While blood flow to the heart usually improves after angioplasty, the underlying vessel disease may remain or progress.
Stents are more expensive than balloon angioplasty without stenting. Length of stay in the hospital and readmission rates are similar following both procedures.
Arteries opened with balloon angioplasty close more often than those treated with standard stents; arteries opened with standard stents have a higher rate of reclosure than those treated with drug-coated stents.
In comparison with bypass surgery, angioplasty and stenting are less invasive procedures and require a much shorter stay in the hospital. Angioplasty and stenting both, however, require the use of some radiation.
Heart disease and the damage caused by completely blocked arteries may not improve following angioplasty or stenting.
Complications can include a stent failing to open, a tear opening in the artery during the procedure, reclosure of the treated artery, heart attack, bleeding at the site of catheterization (usually the groin), and death.
If you have coronary artery disease, angioplasty with a stent may not help you live any longer than taking medicine alone.
How much time this decision tool will take
What this tool will provide
A personalized list of factors for you to weigh
Questions to ask your doctor
Alternatives to this procedure
Recommended reading
---
Review Date: 12/31/2010
Reviewed By: David C. Dugdale, III, MD, Professor of Medicine, Division of General Medicine, Department of Medicine, University of Washington School of Medicine. Previously reviewed by Larry A. Weinrauch MD, Assistant Professor of Medicine, Harvard Medical School, Cardiovascular Disease and Clinical Outcomes Research, Watertown, MA. Review provided by VeriMed Healthcare Network (10/17/2008).
References:
Dundar Y, Hill RA, Bakhai A, Dickson R, Walley T. Angioplasty and stents in coronary artery disease: a systematic review and meta-analysis. Scandinavian Cardiovascular Journal. 2004;38:200-210. Review.
Kandzari DE, Tuttle RH, Zidar JP, Jollis JG. Comparison of long-term (seven year) outcomes among patients undergoing percutaneous coronary revascularization with versus without stenting.American Journal of Cardiology. 2006;97:1467-1472.
Blackman DJ, Pinto R, Ross JR, et al. Impact of renal insufficiency on outcome after contemporary percutaneous coronary intervention. American Heart Journal. 2006;151:146-152.
Hannan EL, Racz MJ, Walford G, et al. Long-term outcomes of coronary-artery bypass grafting versus stent implantation. N Engl J Med. 2005;352:2174-2183.
Malenka DJ, Leavitt BJ, Hearne MJ, et al. Comparing long-term survival of patients with multivessel coronary disease after CABG or PCI. Circulation 2005;112:I-371–376.
Anderson HV, Shaw RE, Brindis RG, et al. Relationship between procedure indications and outcomes of percutaneous coronary interventions by American College of Cardiology/American Heart Association Task Force Guidelines. Circulation 2005;112:2786-2791.
Chieffo A, Morici N, Maisano F, et al. Percutaneous treatment with drug-eluting stent implantation versus bypass surgery for unprotected left main stenosis. Circulation 2006; 113:2542-2547.
Smith SC Jr, Feldman TE, Hirshfeld JW Jr. ACC/AHA/SCAI 2005 guideline update for percutaneous coronary intervention: a report of the American College of Cardiology/American Heart Association Task Force on Practice Guidelines (ACC/AHA/SCAI Writing Committee to Update 2001 Guidelines for Percutaneous Coronary Intervention). Circulation 2006;113:e166-286.
Boden WE, O'rourke RA, Teo KK, et al. Optimal Medical Therapy with or without PCI for Stable Coronary Disease. N Engl J Med. 2007 Mar 26; [Epub ahead of print].
The information provided herein should not be used during any medical emergency or for the diagnosis or treatment of any medical condition. A licensed medical professional should be consulted for diagnosis and treatment of any and all medical conditions. Links to other sites are provided for information only -- they do not constitute endorsements of those other sites. © 1997- A.D.A.M., a business unit of Ebix, Inc. Any duplication or distribution of the information contained herein is strictly prohibited.