Amniocentesis
Introduction
The purpose of this tool is to help you decide whether or not to have an amniocentesis. When making a decision like this, you must balance:
The reasons for having the test
The potential health risks, drawbacks, or limitations of the procedure
Whether there are alternative procedures that may be more appropriate
Cost
This tool is not a substitute for professional medical care and advice. Work with your doctor to help you make this decision. A second opinion from another doctor may be valuable. There is usually no exact "right" or "wrong" answer.
Your physician may make certain recommendations to you. However, the final decision about whether to have this test rests with you.
What is the test?
Amniocentesis is a diagnostic procedure performed by inserting a hollow needle through the abdominal wall into the uterus and withdrawing a small amount of fluid from the sac surrounding the fetus.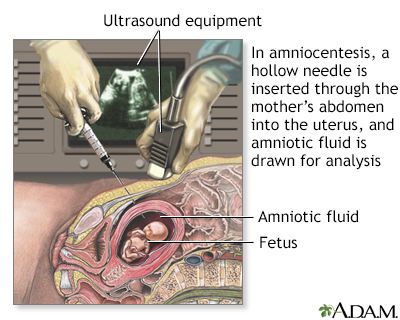 The test can detect chromosomal disorders (such as Down syndrome), structural defects (such as spina bifida -- an open spine, where the vertebrae fail to close), anencephaly (a condition in which the brain is incomplete or missing), and many rare, inherited metabolic disorders.
Later on in a pregnancy, the test may be help a doctor identify suspected problems, such as Rh incompatibility or infection.
Late in the pregnancy, the test can determine lung maturity.
Key points
Amniocentesis is not a routine test. It is typically performed when your doctor suspects a problem in the development of your baby.
There is a slight risk of infection or injury to the fetus, and a smaller chance of causing miscarriage.
Amniocentesis can identify genetic diseases with abnormal chromosome numbers. The test can also sometimes help identify other suspected genetic diseases.
Amniocentesis helps to identify babies at risk for certain birth defects, such as spina bifida.
Amniocentesis provides more information for women at higher risk for having a baby with genetic abnormalities, including: women who will be or are over the age of 35 when the baby is expected to be born, who have had abnormal screening tests (such as nuchal lucency, blood tests, and ultrasound), or who have a family history of Down syndrome.
Very rarely, the sample obtained during the amniocentesis may not reveal anything about a suspected problem. If so, the procedure may need to be repeated.
Results take at least 7 days. Some tests (for example, fluorescent in situ hybridization, or FISH) take 48 hours but do not provide complete information.
A normal test result does not guarantee that the baby will be normal at birth.
Knowing if your baby has a genetic or structural defect early may help prepare families for the special care needs of the baby.
Women who are HIV positive are at higher risk for transferring the virus to their baby during amniocentesis.
How much time this decision tool will take
What this tool will provide
A personalized list of factors for you to weigh
Questions to ask your doctor
Alternatives to this test
Recommended reading
---
Review Date: 9/12/2010
Reviewed By: Linda J. Vorvick, MD, Medical Director, MEDEX Northwest Division of Physician Assistant Studies, University of Washington, School of Medicine. Also reviewed by David Zieve, MD, MHA, Medical Director, A.D.A.M., Inc.
References:
American College of Obstetricians and Gynecologist. Invasive prental testing for aneuploidy. ACOG Practice Bulletin, Number 88. Obstet Gynecol. 2007 Dec;110(6):1459-67.
Towner D, Currier RJ, Lorey FW, Cunningham GC, Greve LC. Miscarriage risk from amniocentesis performed for abnormal maternal serum screening. AM J Obstet Gynecol. June 1, 2007;196(6):608.e1-5;discussion.
The information provided herein should not be used during any medical emergency or for the diagnosis or treatment of any medical condition. A licensed medical professional should be consulted for diagnosis and treatment of any and all medical conditions. Links to other sites are provided for information only -- they do not constitute endorsements of those other sites. © 1997- A.D.A.M., a business unit of Ebix, Inc. Any duplication or distribution of the information contained herein is strictly prohibited.