Headache specialist
Introduction
The purpose of this tool is to help you decide whether or not to see a headache specialist. When making a decision like this, you must balance:
The reasons for seeing the specialist
Whether there are alternatives that may be more appropriate
Cost
This tool is not a substitute for professional medical care and advice. Ask your regular doctor to help you decide whether it is worth seeing a specialist. There is usually no exact "right" or "wrong" answer.
Your physician may make certain recommendations to you. However, the final decision about whether to see a specialist rests with you.
What does the specialist do?
A headache is pain or discomfort in the head, scalp, or neck. Serious causes of headaches are extremely rare. Most people with headaches can feel much better if they make lifestyle changes, learn ways to relax, and occasionally take medications.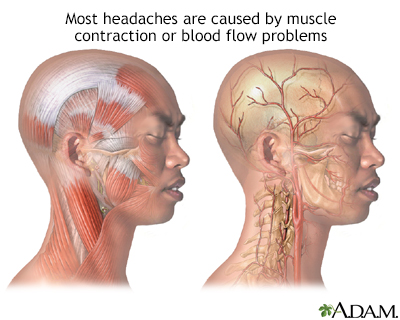 Treat your symptoms seriously. Your health care provider will obtain your medical history and perform an examination of your head, eyes, ears, nose, throat, neck, and nervous system.
The diagnosis is usually based on your history of symptoms; however, a headache specialist may perform diagnostic tests to determine the cause of the headache. These tests include:
Key points
You should probably see a headache specialist when:
You have a history of headaches, but they have changed in pattern, intensity, or frequency.
You have frequent headaches without a known cause.
Your headaches are associated with weakness, numbness, or slurred speech.
You are on medications (such as steroids) that suppress your immune system.
Your headache feels like the worst headache you have ever had.
You have a family history of brain aneurysms (cerebral aneurysms).
Your headaches are causing you to miss work or other activities.
People say you are not acting like yourself, or you feel like your personality has changed.
You often need to go to an emergency room because of severe headaches.
You always feel tired.
Sometimes you can relieve a headache by resting with your eyes closed and head supported.
Relaxation techniques can help. A massage or heat applied to the back of the upper neck may relieve tension headaches:
Several medicines may help treat headaches. Often, your primary care doctor can prescribe many of these. The following medications may help:
Acetaminophen, aspirin, or ibuprofen for infrequent tension or migraine headaches.
Migraine headaches may respond to aspirin, naproxen, or combination migraine medications
Medications called ergots (ergotamine, Cafergot) or triptans (Imitrex, Maxalt, Axert), for migraine headaches
If you get frequent headaches, your doctor may prescribe medication to prevent headaches before they occur. Examples include:
Antidepressants -- like nortriptyline (Pamelor), amitriptyline (Elavil), fluoxetine (Prozac, Sarafem), sertraline (Zoloft), or paroxetine (Paxil) --for tension or migraine headache
Beta-blockers, like propranolol (Inderal), for frequent migraine headaches
Calcium channel blockers, like verapamil, for frequent migraine headaches
Certain anti-seizure medicines are helpful for chronic headaches
How much time this decision tool will take
What this tool will provide
A personalized list of factors for you to weigh
Questions to ask your doctor
Alternatives to seeing a specialist
Recommended reading
---
Review Date: 9/12/2010
Reviewed By: Linda J. Vorvick, MD, Medical Director, MEDEX Northwest Division of Physician Assistant Studies, University of Washington, School of Medicine. Also reviewed by David Zieve, MD, MHA, Medical Director, A.D.A.M., Inc.
References:
Abu-Arafeh I, Macleod S. Serious neurological disorders in children with chronic headache. Archives of Disease in Childhood. 2005;90:937-940.
Detsky ME, McDonald DR, et al. Does this patient with headache have a migraine or need neuroimaging? JAMA. 2006;296(10): 1274-83.
Ebell MH. Diagnosis of migraine headache. Am Fam Physician. 2006;74(12): 2087-8.
Fumal A, Schoenen J. Tension-type headache: current research and clinical management. Lancet Neurol. 2008;7(1): 70-83.
Silberstein SD, Young WB. Headache and facila pain. Goetz CG, ed. Textbook of Clinical Neurology. 3rd ed. St. Louis, MO: WB Saunders; 2007:chap 53.
Wilson JF. In the clinic. Migraine. Ann Intern Med. 2007;147(9): ITC11-1-ITC11-16.
The information provided herein should not be used during any medical emergency or for the diagnosis or treatment of any medical condition. A licensed medical professional should be consulted for diagnosis and treatment of any and all medical conditions. Links to other sites are provided for information only -- they do not constitute endorsements of those other sites. © 1997- A.D.A.M., a business unit of Ebix, Inc. Any duplication or distribution of the information contained herein is strictly prohibited.