Osteoporosis medications
Introduction
The purpose of this tool is to help you decide whether osteoporosis medication is right for you. When making a decision like this, you must balance:
The reasons for taking the medication
The potential health risks, side effects, or limitations of the medication
Whether there are alternative treatments that may be more appropriate
Cost
This tool is not a substitute for professional medical care and advice. Work with your doctor to help you make this decision. A second opinion from another doctor may be valuable. Medication always has potential side effects, and you should be fully informed about the risks and benefits of this type of medication. There is usually no exact "right" or "wrong" answer.
Your doctor may make certain recommendations to you. However, the final decision about whether to use this medication rests with you.
What is the medication?
Osteoporosis is the most common type of bone disease. Osteoporosis happens when your bone tissue becomes thin and fragile as you age or as a result of disease or medication. The weakened bones can break easily, especially in the hip. Such fractures, when they occur later in life, can make a person disabled and unable to perform daily activities.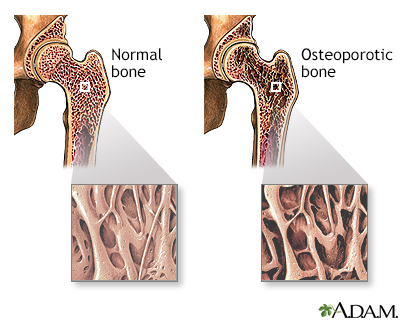 Several types of medications treat osteoporosis. They vary in their side effects, benefits, and costs. One type is bisphosphonates. These medicines can both prevent and treat osteoporosis. They include the drugs Fosamax, Actonel, and Boniva, and Zometa. This tool focuses on deciding whether to take bisphosphonates.
Other medication options include raloxifene, calcitonin, and hormone replacement therapy. They will be briefly discussed at the end of this tool, but are not the focus. Discuss all of your options with your doctor.
Key points
Certain people are more at risk for developing osteoporosis. These include Asians, thin people, women, the elderly, and people who are not active or who do not receive much sunlight.
Conditions such as rheumatoid arthritis, thyroid problems, celiac disease, hypogonadism (low levels of hormones in men and women), calcium metabolism diseases, and Cushing's syndrome may put people at risk for developing osteoporosis.
People taking corticosteroid medicines for longer than 3 months.
People taking hormone blocker medicines (such as tamoxifen) to treat certain cancers are at risk for osteoporosis.
Other risks are heavy tobacco and alcohol use.
Anyone at risk should speak to their doctor to see if they should be screened for osteoporosis.
Bisphosphonates are generally the best medicines for preserving the structure and strength of bones in those at risk of fracture.
Bisphosphonates should be taken on an empty stomach. You should not lie down or eat for at least 30 minutes after taking the medicine.
The side effects of bisphosphonates are generally mild but can include upset stomach.
Your doctor may also recommend that you take calcium and vitamin D supplements.
How much time this decision tool will take
What this tool will provide
A personalized list of factors for you to weigh
Questions to ask your doctor
Alternatives to this medication
Recommended reading
---
Review Date: 9/19/2010
Reviewed By: David C. Dugdale, III, MD, Professor of Medicine, Division of General Medicine, Department of Medicine, University of Washington School of Medicine. Also reviewed by David Zieve, MD, MHA, Medical Director, A.D.A.M., Inc.
References:
Management of osteoporosis in postmenopausal women: 2006 position statement of The North American Menopause Society. Menopause. 2006 May-Jun;13(3):340-67.
MacLean C, Newberry S, et al. Systematic review: comparative effectiveness of treatments to prevent fractures in men and women with low bone density or osteoporosis. Ann Intern Med. 2008;148(3): 197-213.
Clinician's Guide to Prevention and Treatment of Osteoporosis. National Osteoporosis Foundation. Published online February 21, 2008. www.nof.org.
The information provided herein should not be used during any medical emergency or for the diagnosis or treatment of any medical condition. A licensed medical professional should be consulted for diagnosis and treatment of any and all medical conditions. Links to other sites are provided for information only -- they do not constitute endorsements of those other sites. © 1997- A.D.A.M., a business unit of Ebix, Inc. Any duplication or distribution of the information contained herein is strictly prohibited.