Sleep medications
Introduction
The purpose of this tool is to help you decide whether to take medication to help you sleep. When making a decision like this, you must balance:
The reasons for taking the medication
The potential health risks, side effects, or limitations of the medication
Whether there are alternative treatments that may be more appropriate
Cost
This tool is not a substitute for professional medical care and advice. Work with your doctor to help you make this decision. A second opinion from another doctor may be valuable. Medication always has potential side effects, and you should be fully informed about the risks and benefits of this type of medication. There is usually no exact "right" or "wrong" answer.
Your doctor may make certain recommendations to you. However, the final decision about whether to use this medication rests with you.
What is the medication?
Sleeping problems are known as insomnia. Problems can include:
Difficulty falling asleep when you go to bed at night
Difficulty staying asleep
Waking up too early in the morning
Waking up frequently throughout the night
Waking up feeling unrefreshed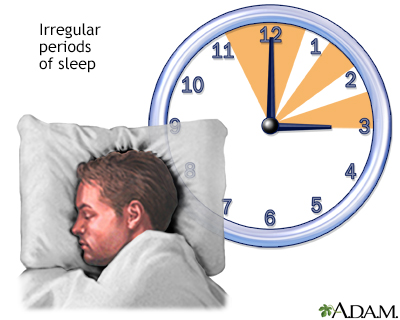 There are many ways to help you sleep better. Medication is available, but should be used as a temporary solution or a last resort.
This tool will focus on the newer medicines available, short-acting non-benzodiazepines. These medicines can bring on sleep with fewer side effects than older drugs, such as Halcion and Xanax.
Examples of these drugs include zolpidem (Ambien), zaleplon (Sonata), eszopiclone (Lunesta), and ramelteon (Rozerem).
Antidepressants may also be prescribed to help you sleep.
Key points
Simple lifestyle changes can help you improve your sleep.
Improving bedtime habits can change the way you sleep.
The bedroom should be reserved for only sleep and sex.
Most people can get better quality sleep WITHOUT medication.
Most sleep medicines make you feel drowsy the next day. This is true for both over-the-counter and prescription sleep medicines.
You can become dependent on sleep medications, requiring higher amounts to fall asleep and stay asleep. This disrupts your normal sleep patterns even more.
Medication should be considered a last resort, for short periods of time only.
How much time this decision tool will take
What this tool will provide
A personalized list of factors for you to weigh
Questions to ask your doctor
Alternatives to this medication
Recommended reading
---
Review Date: 9/12/2010
Reviewed By: Linda J. Vorvick, MD, Medical Director, MEDEX Northwest Division of Physician Assistant Studies, University of Washington, School of Medicine. Also reviewed by David Zieve, MD, MHA, Medical Director, A.D.A.M., Inc.
References:
Morgenthaler T, Kramer M., et al. Practice parameters for the psychological and behavioral treatment of insomnia: an update. An american academy of sleep medicine report. Sleep. 2006;29(11): 1415-9.
Ramakrishnan K, Scheid DC. Treatment options for insomnia. Am Fam Physician. 2007;76(4): 517-26.
Wilson, JF. In the clinic. Insomnia. Ann Intern Med. 2008;148(1): ITC13-1-ITC13-16.
The information provided herein should not be used during any medical emergency or for the diagnosis or treatment of any medical condition. A licensed medical professional should be consulted for diagnosis and treatment of any and all medical conditions. Links to other sites are provided for information only -- they do not constitute endorsements of those other sites. © 1997- A.D.A.M., a business unit of Ebix, Inc. Any duplication or distribution of the information contained herein is strictly prohibited.