Tonsil and adenoid removal
Introduction
The purpose of this tool is to help you decide whether your child should have tonsils and/or adenoids removed. When making your decision, you must balance:
The reasons for doing the procedure
The potential health risks, drawbacks, or limitations of the procedure
Whether there are alternative procedures that may be more appropriate
Cost
This tool is not a substitute for professional medical care and advice. Work with your doctor to help you make this decision. A second opinion from another doctor may be valuable. Surgery always carries risks, and you should be fully informed about the risks and benefits of this type of surgery. You should also be aware that research evidence is often limited, and the risks of surgery may not be completely understood. For this type of surgery, there is usually no exact "right" or "wrong" answer.
Your doctor may make certain recommendations to you. However, the final decision about whether to have the surgery rests with you.
What is the surgery?
The tonsils and adenoids help protect against infections. However, children with large tonsils or adenoids may have frequent sore throats and ear infections, or nightly breathing problems. In these cases, surgery to remove them may be helpful. This is particularly true when the problems are so frequent or severe that they affect a child's general health or interfere with school, hearing, or breathing.
Keep in mind that many doctors believe tonsils are removed more often than necessary. Therefore, the decision should be carefully considered.
The adenoids are frequently removed at the same time as the tonsils. The adenoids are located high in the throat, near the back of the nose.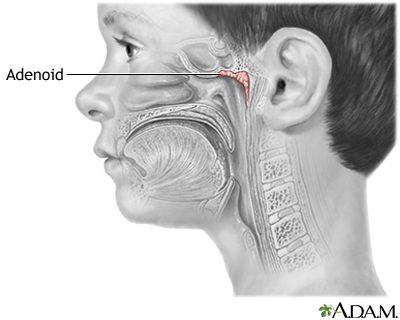 The surgery is performed under general anesthesia. This means your child will be unconscious and pain-free. The surgeon holds the mouth open to expose the tonsils. The tonsils are then cut or burned away. Bleeding is controlled, and the cut heals naturally without stitches.
Key points
Removing the tonsils may help reduce the frequency of throat infections
Removing the adenoids will help reduce the frequency of sinus and ear infections
Removing the tonsils and adenoids may help with snoring, nasal congestion and sleep apnea
The risks of the surgery include anesthesia complications, bleeding, voice change, speech difficulty, dental damage, and re-growth of the tonsils and adenoids
How much time this decision tool will take
What this tool will provide
A personalized list of factors for you to weigh
Questions to ask your doctor
Alternatives to this surgery
Recommended reading
---
Review Date: 9/12/2010
Reviewed By: Linda J. Vorvick, MD, Medical Director, MEDEX Northwest Division of Physician Assistant Studies, University of Washington, School of Medicine. Also reviewed by David Zieve, MD, MHA, Medical Director, A.D.A.M., Inc.
References:
American Academy of Otolaryngology-Head and Neck Surgery. Clinical Indications for Tonsillectomy & Adenoidectomy. Bulletin. 2000; 19(6).
American Academy Of Pediatrics. Clinical Practice Guideline: Diagnosis and Management of Childhood Obstructive Sleep Apnea Syndrome. Pediatrics. 2002;109(4):704-712.
American Academy of Family Physicians, American Academy of Otolaryngology-Head and Neck Surgery, American Academy of Pediatrics. Clinical Practice Guideline: Otitis media with effusion. Pediatrics. 2004;113(5):1412-1429.
Baldassari CM, Mitchell RB, et al. Pediatric obstructive sleep apnea and quality of life: a meta-analysis. Otolaryngol Head Neck Surg. 2008;138(3):265-273.
Burton MJ, Towler B, Glasziou P. Tonsillectomy Adenotonsillectomy or watchful waiting in patients with mild to moderate symptoms of throat infections or adenotonsillar hypertrophy: a randomized comparison of costs and effects. Arch Otolaryngol Head Neck Surg. 2007;133(11):1083-8.
Buskens E, van Staaji B, et al. Parent satisfaction 1 year after adenotonsillectomy of their children from a study. Int J Pediatric Otorhinolaryngol. 2000 Dec 22;56(3):199-205.
Brietzke SE, Gallagher D. The effectiveness of tonsillectomy and adenoidectomy in the treatment of pediatric obstructive sleep apnea/hypopnea syndrome: a meta-analysis. Otolaryngol Head Neck Surg. 2006;134(6):979-84.
Georgalas CC, Tolley NS, Narula A. Recurrent throat infections (tonsillitis). BMJ Clinical Evidence. 2006 Nov;134(1):114-120.
Ramakrishan K, Sparks RA, et al. Diagnosis and treatment of otitis media. Am Fam Physician. 2007;76(11):1650-8.
Wetmore RF. Tonsils and Adenoids. Kliegman RM, Behrman RE, Jenson HB, Stanton BF, eds. Nelson Textbook of Pediatrics. 18th ed. St. Louis, MO: WB Saunders; 2007;chap 380.
The information provided herein should not be used during any medical emergency or for the diagnosis or treatment of any medical condition. A licensed medical professional should be consulted for diagnosis and treatment of any and all medical conditions. Links to other sites are provided for information only -- they do not constitute endorsements of those other sites. © 1997- A.D.A.M., a business unit of Ebix, Inc. Any duplication or distribution of the information contained herein is strictly prohibited.