Knee replacement
Introduction
The purpose of this tool is to help you decide whether total knee replacement is right for you. When making a decision like this, you must balance:
The reasons for doing the procedure
The potential health risks, drawbacks, or limitations of the procedure
Whether alternative procedures may be more appropriate
Cost
This tool is not a substitute for professional medical care and advice. Work with your doctor to help you make this decision. A second opinion from another doctor may be valuable. Surgery always carries risks, and you should be fully informed about the risks and benefits of this type of surgery. You should also be aware that research evidence is often limited, and the risks of surgery may not be completely understood. For this type of surgery, there is usually no exact "right" or "wrong" answer.
Your physician may make certain recommendations to you. However, the final decision about whether to have the surgery rests with you.
What is the surgery?
Knee joint replacement surgery replaces diseased or damaged surfaces in the knee. The new surfaces are typically made of metal and plastic. The procedure is usually performed to treat arthritis and knee pain.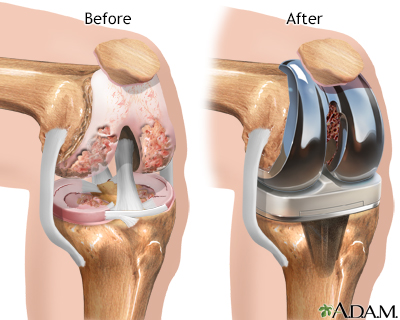 The operation is performed under general anesthesia. You will be unconscious and pain-free. The surgeon makes a cut over the front of the knee. The diseased areas of the thigh bone and shin bone are removed. In a total knee replacement, the end of the thigh bone is replaced with a metal cap, the end of the shin bone is replaced with metal covered with a piece of plastic, and the undersurface of the kneecap is replaced with plastic.
The cut is usually closed with staples. After the surgery, you can usually start walking the next day. Full recovery takes 6 weeks to 3 months.
Sometimes, the surgeon can perform a partial knee replacement. This surgery removes less surface area and involves a smaller incision. This "minimally invasive" approach may allow for a faster, less painful recovery than standard total knee replacement. Risks may be higher, however, due to the procedure's higher degree of difficulty.
Key points
With any surgery, it is important to weigh the potential benefits versus the potential risks. For the right person, the benefits of knee replacement can outweigh the risks.
Total knee replacement can greatly decrease or eliminate knee pain, improve walking, and lead to increased activity.
The risks of total knee replacement include the risks of anesthesia, infection, blood clots, wearing out of the components, and occasionally continued pain.
How much time this decision tool will take
What this tool will provide
A personalized list of factors for you to weigh
Questions to ask your doctor
Alternatives to this surgery
Recommended reading
---
Review Date: 4/7/2010
Reviewed By: A.D.A.M. Editorial Team: David Zieve, MD, MHA, and David R. Eltz. Thomas N. Joseph, MD, Private practice specializing in Orthopaedics, Camden Bone & Joint, Camden, SC. Review provided by VeriMed Healthcare Network (11/9/2007).
References:
Jones CA, Beaupre LA, Johnson DW, Suarez-Almazor ME. Total joint arthroplasties: current concepts of patient outcomes after surgery. Clinics in Geriatric Medicine. 2005, Aug 21(3);527-41.
Ethgen O, Bruyère O, Richy F, Dardennes C, and Reginster J-Y. Health-related quality of life in total hip and total knee arthroplasty. A qualitative and systematic review of the literature. The Journal of Bone & Joint Surgery (American). May 2004;86:963-974.
Kane RL, Saleh KJ, Wilt TJ, and Bershadsky B. The functional outcomes of total knee arthroplasty. The Journal of Bone & Joint Surgery (American). August 2005;87:1719-1724.
The information provided herein should not be used during any medical emergency or for the diagnosis or treatment of any medical condition. A licensed medical professional should be consulted for diagnosis and treatment of any and all medical conditions. Links to other sites are provided for information only -- they do not constitute endorsements of those other sites. © 1997- A.D.A.M., a business unit of Ebix, Inc. Any duplication or distribution of the information contained herein is strictly prohibited.