Cataract removal
Introduction
The purpose of this tool is to help you decide whether cataract surgery is right for you. When making a decision like this, you must balance:
The reasons for doing the procedure
The potential health risks, drawbacks, or limitations of the procedure
Whether there are alternative procedures that may be more appropriate
Cost This tool is not a substitute for professional medical care and advice.
Work with your doctor to help you make this decision. A second opinion from another doctor may be valuable. Surgery always carries risks, and you should be fully informed about the risks and benefits of this type of surgery. You should also be aware that research evidence is often limited, and the risks of surgery may not be completely understood. For this type of surgery, there is usually no exact "right" or "wrong" answer.
Your physician may make certain recommendations to you. However, the final decision about whether to have the surgery rests with you.
What is the surgery?
The lens of the eye is clear in childhood, which allows clear vision. As you get older, the lens gradually changes and your vision usually becomes less clear. A cataract is when the lens develops a cloudiness that causes vision problems. The condition can lead to blurry vision, glare from lights, and blindness.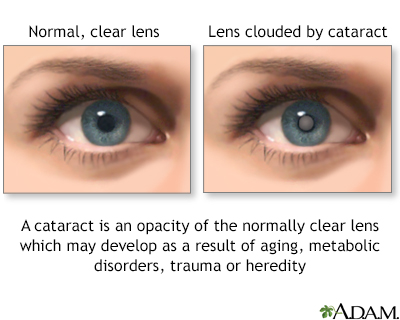 Cataract removal is a procedure to remove a clouded lens from your eye. In most cases, you will receive a new artificial lens in its place, which restores the focusing power of the lens that is removed and enables you to see well without thick glasses.
The surgery is performed in a hospital or in an outpatient setting. For adults, the surgery is usually done without being put to sleep. Drops or an injection are used to prevent any pain. Cataracts in children are not common, but when they occur, the child is typically given general anesthesia. This means they are deep asleep and pain-free.
With the help of a microscope, the doctor makes a small incision. The lens is removed by suction, often with the help of high-frequency sound to assist in making the lens liquid. The artificial lens can be folded and placed through the small incision. The incision may be closed with fine stitches or may be self sealing. If stitches are placed, they may need to be removed at a later date. The surgery typically takes less than an hour.
Key points
As with any surgery, it is important to weigh the potential benefits against the potential risks.
The primary reason to have cataract surgery is to improve the sharpness of your vision. If your vision is not sufficient for your needs, such as reading or driving, and cataracts are the reason, you should consider cataract surgery. Glare is a frequent symptom of cataracts. If your vision is good in dim light but poor in bright light, cataracts may be the cause.
Cataract surgery is usually performed to sharpen your vision. Other reasons are much less common. If your ophthalmologist believes that cataract surgery is important for the health of your eye (or eyes), be sure that you understand the reason.
Cataract surgery is the most common operation done in the United States and in the world, and has a low risk of complications. In the United States, less than 1% of patients have serious complications from cataract surgery, and less than 5% have any complications at all. Your ophthalmologist will tell you if you have any problems that make your individual risk higher.
If you have an additional eye problem, such as macular degeneration, ask your doctor how that will affect your healing and your potential sharpness of vision after surgery.
How much time this decision tool will take
What this tool will provide
A personalized list of factors for you to weigh
Questions to ask your doctor
Alternatives to this surgery
Recommended reading
---
Review Date: 9/12/2010
Reviewed By: Linda J. Vorvick, MD, Medical Director, MEDEX Northwest Division of Physician Assistant Studies, University of Washington, School of Medicine. Also reviewed by David Zieve, MD, MHA, Medical Director, A.D.A.M., Inc.
References:
Fay A. Diseases of the visual system. Goldman L, Ausiello D, eds. Cecil Textbook of Medicine. 23rd ed. Philadelphia, Pa: Saunders Elsevier; 2007:chap 449.
Allen D, Vasavada A. Cataract and surgery for cataract. BMJ Clinical Evidence. 2006,333(7559):128-32.
The information provided herein should not be used during any medical emergency or for the diagnosis or treatment of any medical condition. A licensed medical professional should be consulted for diagnosis and treatment of any and all medical conditions. Links to other sites are provided for information only -- they do not constitute endorsements of those other sites. © 1997- A.D.A.M., a business unit of Ebix, Inc. Any duplication or distribution of the information contained herein is strictly prohibited.