MRI
Introduction
The purpose of this tool is to help you decide whether or not to have an MRI. When making a decision like this, you must balance:
The reasons for having the test
The potential health risks, drawbacks, or limitations of the procedure
Whether there are alternative procedures that may be more appropriate
Cost
This tool is not a substitute for professional medical care and advice. Work with your doctor to help you make this decision. A second opinion from another doctor may be valuable. There is usually no exact "right" or "wrong" answer.
Your physician may make certain recommendations to you. However, the final decision about whether to have this test rests with you.
What is the test?
Magnetic resonance imaging (MRI) is a non-invasive procedure that uses powerful magnets and radio waves to construct pictures of the body.
An MRI can provide detailed images of human tissue and organs. Combined with other imaging methods, a doctor can use MRI to make a more definitive diagnosis of a patient's disease.
The MRI scanner must be located within a specially shielded room to avoid outside interference. The patient will be asked to lie on a narrow table that slides into a large tunnel-like tube within the scanner.
If you are administered a contrast dye, you will receive an IV, usually in a small vein of your hand or forearm. A technologist will operate the machine and observe you during the entire study from an adjacent room.
Several sets of images are usually required, each taking from 2 to 15 minutes. A complete scan, depending on the body area studied, sequences performed, and need for contrast enhancement, may take up to 1 hour or more. Newer scanners with more powerful magnets may complete the process in less time.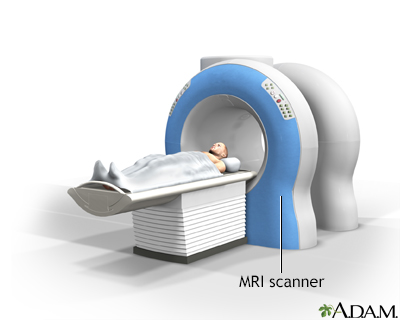 Key points
MRI should not be used to evaluate people with metallic objects in their bodies, such as pacemakers, inner ear (cochlear) implants, brain aneurysm clips, recently placed vascular stents, and metal in the eye.
MRI does not use ionizing radiation and is therefore safer than a CT (computed tomography) scan.
MRI is a noninvasive procedure that can evaluate blood flow and the flow of cerebrospinal fluid.
MRI can tell the difference between tumors or other lesions and normal tissues.
MRI is sometimes used to avoid repeated exposure to radiation.
There is no pain. You do not feel the magnetic field and radio waves.
You may, however, develop claustrophobia from being inside the scanner.
The table may be hard or cold, but you can request a blanket or pillow.
Excessive movement can blur MRI images. If you have trouble lying still or are very anxious, you may receive an oral or IV sedative.
There is no recovery time, unless you have sedation.
The most common IV contrast agent used with MRI, gadolinium, is considered very safe. Although there have been documented allergic reactions, they are extremely rare.
How much time this decision tool will take
What this tool will provide
A personalized list of factors for you to weigh
Questions to ask your doctor
Alternatives to this test
Recommended reading
---
Review Date: 9/19/2010
Reviewed By: David C. Dugdale, III, MD, Professor of Medicine, Division of General Medicine, Department of Medicine, University of Washington School of Medicine. Also reviewed by David Zieve, MD, MHA, Medical Director, A.D.A.M., Inc.
---
References:
Chou R, Qaseem A, et al. Diagnosis and treatment of low back pain: a joint clinical practice guideline from the American College of Physicians and the American Pain Society. Ann Intern Med. 2007;147(7):478-491.
Detsky ME, McDonald DR, et al. Does this patient with headache have a migraine or need neuroimaging? JAMA. 2006;296(10):1274-83.
Fox MG. MR imaging of the meniscus: review, current trends, and clinical implications. Radiol Clin North AM. Nov 1, 2007;45(6):1033-53, vii.
Morris E. Diagnostic breast MR imaging: Current status and future directions. Radiol Clin North Amer. Sep 1, 2007;45(5):863-80, vii.
The information provided herein should not be used during any medical emergency or for the diagnosis or treatment of any medical condition. A licensed medical professional should be consulted for diagnosis and treatment of any and all medical conditions. Links to other sites are provided for information only -- they do not constitute endorsements of those other sites. © 1997- A.D.A.M., a business unit of Ebix, Inc. Any duplication or distribution of the information contained herein is strictly prohibited.