CT scan
Introduction
The purpose of this tool is to help you decide whether or not to have a CT scan. When making a decision like this, you must balance:
The reasons for having the test
The potential health risks, drawbacks, or limitations of the procedure
Whether there are alternative procedures that may be more appropriate
Cost
This tool is not a substitute for professional medical care and advice. Work with your doctor to help you make this decision. A second opinion from another doctor may be valuable. There is usually no exact "right" or "wrong" answer.
Your physician may make certain recommendations to you. However, the final decision about whether to have this test rests with you.
What is the test?
Computed tomography (CT) is a method of body imaging in which a thin x-ray beam rotates around the patient. Small detectors measure the amount of x-rays that make it through the body area of interest.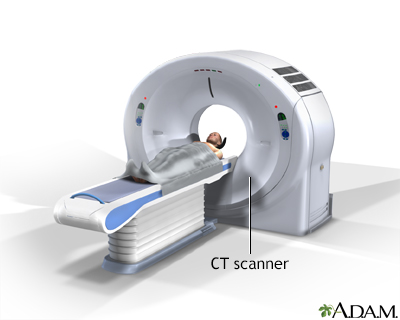 CT provides quick, detailed cross-sectional imaging that can be reconstructed into three-dimensional models of your body on a computer. Scans using dye (typically iodine-based contrast) allow doctors to evaluate blood vessels and check the body for tumors.
CT is often used in cases of injury to check the brain, chest, and abdomen. CT can be used to guide interventional procedures, such as biopsies and placement of drainage tubes.
Key points
You will be asked to lie on a narrow table that slides into the center of a scanner. You may need to lie on your stomach, back, or side. If contrast dye is administered, an IV will be placed in a small vein of your hand or arm.
The most common intravenous contrast dye is iodine based. A person who is allergic to iodine (such as those with seafood allergies) may experience nausea, sneezing, vomiting, itching, or hives.
Any motion you make can cause blurred images in CT. The operator will give you instructions through an intercom on when to hold your breath and not move.
As the exam takes place, the table will advance in small intervals through a scanner.
Modern spiral scanners can perform the exam in one continuous motion.
In general, complete scans may take a few minutes; high-resolution or contrast-enhanced scans will add to the scan time.
CT scans use low levels of ionizing radiation and should be used carefully due to the potential to cause cancer and geneticdefects.
CT may provide information about the body that otherwise would require surgery for confirmation.
CT scans can provide information about a health problem that may not have been discovered until it had become more advanced.
CT can be used to guide biopsies (removing a small piece of tissue to determine if it is cancerous) and abscess drainage (collection of infected fluid) that otherwise would require surgery.
How much time this decision tool will take
What this tool will provide
A personalized list of factors for you to weigh
Questions to ask your doctor
Alternatives to this test
Recommended reading
---
Review Date: 9/19/2010
Reviewed By: DavDavid C. Dugdale, III, MD, Professor of Medicine, Division of General Medicine, Department of Medicine, University of Washington School of Medicine. Also reviewed by David Zieve, MD, MHA, Medical Director, A.D.A.M., Inc. (6/6/2008)
---
References:
Multidetector computed tomography for the diagnosis of coronary artery disease: a systematic review. American Journal of Medicine. March 2006;119(3):203-16.
Multi-detector row CT of hemoptysis. Radiographics. Jan-Feb 2006;26(1):3-22.
CT colonography for colon cancer screening. Gastrointest Endosc. January 2006;63(1):121-33.
High-resolution CT in diagnosis of diffuse infiltrative lung disease. Semin Ultrasound CTMR. October 2005;26(5):332-47.
Multidetector CT evaluation of abdominal trauma. Radiol Clin North Am. November 2005;43(6):1079-95.
The information provided herein should not be used during any medical emergency or for the diagnosis or treatment of any medical condition. A licensed medical professional should be consulted for diagnosis and treatment of any and all medical conditions. Links to other sites are provided for information only -- they do not constitute endorsements of those other sites. © 1997- A.D.A.M., a business unit of Ebix, Inc. Any duplication or distribution of the information contained herein is strictly prohibited.