Arthritis medications
Introduction
The purpose of this tool is to help you decide whether arthritis medication is right for you. When making a decision like this, you must balance:
The reasons for taking the medication
The potential health risks, side effects, or limitations of the medication
Whether there are alternative treatments that may be more appropriate
Cost
This tool is not a substitute for professional medical care and advice. Work with your doctor to help you make this decision. A second opinion from another doctor may be valuable. Medication always has potential side effects, and you should be fully informed about the risks and benefits of this type of medication. There is usually no exact "right" or "wrong" answer.
Your doctor may make certain recommendations to you. However, the final decision about whether to use this medication rests with you.
What is the medication?
There are different kinds of arthritis. One kind, osteoarthritis, is the most common joint disorder. The disease causes the cushion between bone joints to wear away, leading to pain and stiffness. It can also cause new pieces of bone, called bone spurs, to grow around the joints.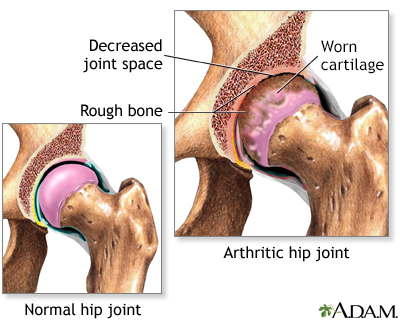 The goals of treatment are to relieve your pain, improve your ability to move the joints, and increase the strength of your joints. Treatment may include heat and cold therapy, weight loss, and exercise. Your doctor may also recommend medication as part of your treatment plan.
The most common medications are pain relievers that reduce pain and swelling. These include aspirin, ibuprofen (Motrin, Advil, Nuprin), and naproxen (Aleve, Naprosyn, Naprelan, Anaprox). There are over-the-counter and prescription forms of this type of drug.
COX-2 inhibitors are another type of arthritis medicine. These drugs were initially believed to work as well as traditional medicines, but with fewer stomach problems. However, two of them -- Vioxx and Bextra -- were taken off the U.S. market due to their possibly increasing the risk of heart attack. A third drug called Celebrex is still available.
Key points
Aspirin, ibuprofen, and naproxen can work well. However, using them on a regular basis can cause stomach problems, such as ulcers and bleeding. They may also increase the risk of heart attacks and strokes.
Some patients with certain drug allergies or other medical problems, such as kidney disease, may need to avoid these medicines.
Celecoxib (Celebrex) has strong package warnings. The Food and Drug Administration (FDA) recommends taking Celebrex at the lowest possible dose for the shortest possible amount of time. Ask your doctor whether the drug is appropriate and safe for you.
Along with taking medication, you should improve lifestyle factors, such as losing weight and strengthening the muscles around the affected joints, to ease the symptoms of arthritis.
Many of these medicines may not work for everyone.
Many of these medicines are available over-the-counter, without a prescription; others are available only by prescription.
Not every arthritis medicine requires the same dose.
How much time this decision tool will take
What this tool will provide
A personalized list of factors for you to weigh
Questions to ask your doctor
Alternatives to this medication
Recommended reading
---
Review Date: 9/19/2010
Reviewed By: David C. Dugdale, III, MD, Professor of Medicine, Division of General Medicine, Department of Medicine, University of Washington School of Medicine. Previously reviewed by David Zieve, MD, MHA, Medical Director, A.D.A.M., Inc. (5/30/2008)
---
References:
Gregory PJ. Dietary supplements for osteoarthritis. Am Fam Physician. 2008 Jan 15;77(2):177-84.
Hunter DJ. In the clinic. Osteoarthritis. Ann Intern Med. 2007 Aug 7;147(3):ITC8-1-ITC8-16. Review.
Lane NE. Clinical practice. Osteoarthritis of the hip. N Engl J Med. 2007 Oct 4;357(14):1413-21. Review.
The information provided herein should not be used during any medical emergency or for the diagnosis or treatment of any medical condition. A licensed medical professional should be consulted for diagnosis and treatment of any and all medical conditions. Links to other sites are provided for information only -- they do not constitute endorsements of those other sites. © 1997- A.D.A.M., a business unit of Ebix, Inc. Any duplication or distribution of the information contained herein is strictly prohibited.