Heart bypass
Introduction
The purpose of this tool is to help you decide whether to have heart bypass surgery. When making a decision like this, you must balance:
The reasons for doing the procedure
The potential health risks, drawbacks, or limitations of the procedure
Whether there are alternative procedures that may be more appropriate
Cost
This tool is not a substitute for professional medical care and advice. Work with your doctor to help you make this decision. A second opinion from another doctor may be valuable. Surgery always carries risks, and you should be fully informed about the risks and benefits of this type of surgery. You should also be aware that research evidence is often limited, and the risks of surgery may not be completely understood. For this type of surgery, there is usually no exact "right" or "wrong" answer.
Your physician may make certain recommendations to you. However, the final decision about whether to have the surgery rests with you.
What is the surgery?
Coronary arteries are small blood vessels that supply your heart with oxygen and nutrients. Fat and cholesterol can accumulate inside these small arteries. When the coronary arteries become blocked, your heart muscle does not get enough blood. This can cause chest pain (angina), shortness of breath, or heart attack.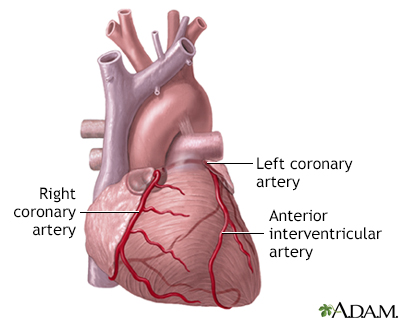 Heart bypass surgery creates a detour, or "bypass," around the blocked part of a coronary artery to restore the blood supply to the heart muscle. The surgery is commonly called Coronary Artery Bypass Graft, or CABG (pronounced "cabbage").
A heart bypass operation is performed while you are under general anesthesia. You will be unconscious and pain-free. A vein will be removed from a leg, arm, chest, or some other part of your body to be used for the bypass. Often, an artery called the left internal mammary artery is also used. The surgery can be performed several ways:
In the traditional approach, you are connected to a heart-lung machine, which circulates blood to other parts of your body during the surgery. Your heart stops beating during the surgery. The heart surgeon makes an incision in the middle of your chest and separates the breastbone to perform the bypass.
Another method, called off-pump coronary artery bypass (OPCAB), does not use a heart-lung machine. It allows the bypass to be created while the heart is still beating.
Another method uses smaller incisions that avoid splitting the breastbone. This is referred to as minimally invasive direct coronary artery bypass (MIDCAB).
Key points
Coronary artery bypass surgery (CABG) is a heart operation. The purpose is to return blood flow to your heart muscle, so that your heart can remain healthy and work normally. Over half a million heart bypass operations are done each year. It is the most common type of heart surgery performed in the U.S.
For most people, their symptoms are relieved after surgery. The symptoms may come back in some people, but the improvement usually lasts for years. A few patients will need surgery again, but this is usually many years (5 - 10, or more) after the first surgery. Heart bypass surgery can lengthen the life of some people.
Every surgery has risks. After a heart bypass operation, problems may include bleeding, infection, slow healing of incisions, stroke, kidney failure, heart damage from the surgery itself, irregular heart beat, blockage of the newly created bypasses, problems with the lungs, and slow general recovery.
Many patients do not go back to previous energy levels for several weeks. In unusual cases, recovery may take many months due to problems after surgery.
Discuss your specific risks with your cardiothoracic surgeon or cardiologist.
How much time this decision tool will take
What this tool will provide
A personalized list of factors for you to weigh
Questions to ask your doctor
Alternatives to this surgery
Recommended reading
---
Review Date: 9/19/2010
Reviewed By: David C. Dugdale, III, MD, Professor of Medicine, Division of General Medicine, Department of Medicine, University of Washington School of Medicine. Also reviewed by David Zieve, MD, MHA, Medical Director, A.D.A.M., Inc.
---
References:
Eagle KA, Guyton RA, Davidoff R, et al. ACC/AHA 2004 guideline update for coronary artery bypass graft surgery: A report of the American College of Cardiology/American Heart Association Task Force on Practice Guidelines (Committee to Update the 1999 Guidelines for Coronary Artery Bypass Graft Surgery). Circulation. 2004;110(14):e340-437.
Khan NE, De Souza A, Mister R, Flather M, Clague J, Davies S, Collins P, Wang D, Sigwart U, Pepper J. A randomized comparison of off-pump and on-pump multi-vessel coronary artery bypass surgery. New England Journal of Medicine. 2004;350(1):21-8.
Lancey RA. Off-pump coronary artery bypass surgery. Current Problems in Surgery. 2003;40(11):693-802.
Pezzella AT, Ferraris VA, Lancey RA. Care of the adult cardiac surgery patient: Part I. Current Problems in Surgery. 2004;41(5):458-516.
Pezzella AT, Ferraris VA, Lancey RA. Care of the adult cardiac surgery patient: Part II. Current Problems in Surgery. 2004;41(6):526-74.
Rihal CS, Raco DL, Gersh BJ, Yusuf S. Indications for coronary artery bypass surgery and percutaneous coronary intervention in chronic stable angina: Review of the evidence and methodological considerations. Circulation. 2003;108(20):2439-45.
Serruys PW, et al. Comparison of coronary artery bypass surgery and stenting for the treatment of multi-vessel disease. New England Journal of Medicine. 2001;344:1117-24.
Wiviott SD, Braunwald E. Unstable angina and non-ST-segment elevation myocardial infarction: Part I. Initial evaluation and management, and hospital care. American Family Physician. 2004;70(3):525-32.
Wiviott SD, Braunwald E. Unstable angina and non-ST-segment elevation myocardial infarction: Part II. Coronary revascularization, hospital discharge, and post-hospital care. American Family Physician. 2004;70(3):535-8.
The information provided herein should not be used during any medical emergency or for the diagnosis or treatment of any medical condition. A licensed medical professional should be consulted for diagnosis and treatment of any and all medical conditions. Links to other sites are provided for information only -- they do not constitute endorsements of those other sites. © 1997- A.D.A.M., a business unit of Ebix, Inc. Any duplication or distribution of the information contained herein is strictly prohibited.