Bronchitis is an inflammation of the bronchial tubes, the part of the respiratory system that leads into the lungs. There are two types of bronchitis -- acute bronchitis and chronic bronchitis. Acute bronchitis usually appears after a respiratory infection, such as a cold, and can be caused by either a virus or bacteria. Chronic bronchitis does not have a sudden onset and is most frequently caused by long term irritation of the bronchial tubes. Bronchitis is considered chronic if symptoms continue for three months or longer. (Chronic bronchitis is a type of COPD.) Bronchitis caused by allergies can also be classified as chronic bronchitis.
Asthma is sometimes under diagnosed, especially in children under 5 years old. Their asthma is sometimes labeled as chronic bronchitis or wheezy bronchitis. Although not all wheezes and coughs are caused by asthma, asthma should be considered whenever there is episodic, chronic, or recurrent cough or wheezing without a clear reason -- especially in children.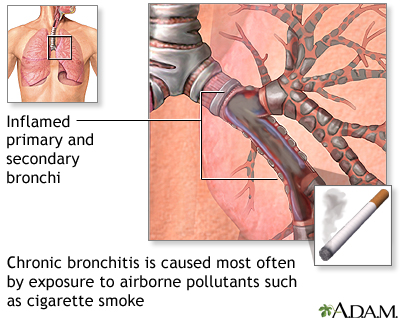 What are the symptoms of chronic bronchitis?
Symptoms may not be immediately obvious for chronic bronchitis. They include:
Chronic productive cough (a cough that produces mucus) that increases in strength and frequency
Shortness of breath or wheezing, especially during exercise
Chest pain
What causes chronic bronchitis?
Chronic bronchitis is caused most often by exposure to airborne pollutants such as cigarette smoke, excessive dust in the air, or chemicals. The constant exposure to such pollutants begins to cause damage in the bronchioles (the smaller airways in the lungs), as the bronchial lining becomes inflamed.
Is chronic bronchitis dangerous?
Untreated chronic bronchitis can be very serious. As the bronchitis worsens, air exchange during breathing becomes less efficient and places strain on the heart. In addition, people with chronic bronchitis have an increased risk of developing other illnesses, such as colds or pneumonia. If the bronchitis is caused by smoking, the bronchitis and breathing problems will get worse as the smoking continues.
How is chronic bronchitis treated?
The main way to treat chronic bronchitis is to avoid the irritant that is causing the illness. For allergy-induced bronchitis, this means removing the allergens from the home or work environment. For smokers, this means quitting smoking.
To treat the bronchitis symptoms, increase the humidity in the air to ease the dry, scratchy throat. Try taking a cough suppressant at night to enable a good night's sleep. Keep in mind that the use of cough suppressants often is discouraged during the day to allow the body to cough out the mucus. Allergic bronchitis may be treated with antihistamine medications to reduce the allergic reaction.
Prescription medications may also help. Bronchodilators can help to open the airways, and steroid drugs can help to reduce the inflammation in the bronchioles. For severe or very long-term cases, doctors may prescribe oxygen therapy to allow proper oxygenation throughout the body.
Reference
National Asthma Education and Prevention Program Expert Panel Report: guidelines for the diagnosis and management of asthma update on selected topics -- 2002. J Allergy Clin Immunol. 2002 Nov;110(Suppl 5):S141-219.
---
Review Date: 6/29/2012
Reviewed By: Allen J. Blaivas, DO, Clinical Assistant Professor of Medicine UMDNJ-NJMS, Attending Physician in the Division of Pulmonary, Critical Care, and Sleep Medicine, Department of Veteran Affairs, VA New Jersey Health Care System, East Orange, NJ. Review provided by VeriMed Healthcare Network. Previoulsy reviewed by David A. Kaufman, MD, Section Chief, Pulmonary, Critical Care & Sleep Medicine, Bridgeport Hospital-Yale New Haven Health System, and Assistant Clinical Professor, Yale University School of Medicine, New Haven, CT. Review provided by VeriMed Healthcare Network. (6/1/2010)
The information provided herein should not be used during any medical emergency or for the diagnosis or treatment of any medical condition. A licensed medical professional should be consulted for diagnosis and treatment of any and all medical conditions. Links to other sites are provided for information only -- they do not constitute endorsements of those other sites. © 1997- A.D.A.M., a business unit of Ebix, Inc. Any duplication or distribution of the information contained herein is strictly prohibited.