Allergy medications
Introduction
The purpose of this tool is to help you decide whether prescription allergy medications are right for you. When making a decision like this, you must balance:
The reasons for taking the medication
The potential health risks, side effects, or limitations of the medication
Whether there are alternative treatments that may be more appropriate
Cost
This tool is not a substitute for professional medical care and advice. Work with your doctor to help you make this decision. A second opinion from another doctor may be valuable. Medication always has potential side effects, and you should be fully informed about the risks and benefits of these types of medication. There is usually no exact "right" or "wrong" answer.
Your doctor may make certain recommendations to you. However, the final decision about whether to use this medication rests with you.
What are these medications?
Just about any substance that you inhale or swallow, or that touches your skin, can cause allergies. Your body's immune system is designed to attack harmful substances like bacteria and viruses. But with allergies, your body launches an assault on substances that are basically harmless -- such as pollen, mold, dust mites, pet saliva and dander, and even medications and insect sting venom.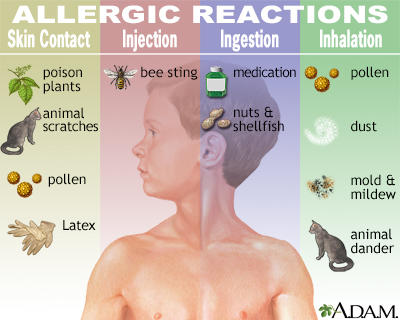 Not only do allergies cause a range of annoying symptoms, such as sneezing and itchy eyes, but they can aggravate or trigger other conditions, such as asthma, sinusitis, and ear infections. Allergies are extremely common. About 50 million Americans suffer from allergies, leading to a lot of missed work and school days each year.
Many people begin by self-treating their allergies with over-the-counter (OTC) drugs. The drugs attempt to stop the histamine reaction that causes the swelling, itching, and mucus production during an allergic reaction. If your allergy symptoms do not improve with OTC drugs, or you have unpleasant side effects from these medicines, you may be thinking of using prescription allergy medications.
This tool will focus on these prescription medications.
Key points
Prescription medications for allergies provide a broader range of treatment options for allergies than over-the-counter (OTC) medications.
Prescription allergy medications often come in the form of antihistamine pills or capsules (Clarinex, Allegra, Zyrtec) and corticosteroids (Nasonex, Flonase). Antihistamines are often combined in prescription form with decongestants (Claritin-D, Allegra-D). Antihistamines are helpful for runny nose, itchy eyes and nose, and a scratchy throat.
Other classes of prescription allergy medications, such as leukotriene blockers (Singulair) and mast cell stabilizers (Crolom), are also available. Nasal corticosteroids can treat help prevent allergy symptoms. Leukotriene modifiers, which are often used to treat patients with asthma, can relieve sneezing, runny nose, itching, and wheezing.
Prescription allergy medications are usually effective for allergy symptoms that are not controlled with OTC medications.
For people with significant allergy symptoms, regular prescription medications may provide symptom control without a need for allergy shots, which involve a significant time commitment.
Prescription allergy medicines are relatively safe and have few side effects when people take them at the recommended dose.
How much time this decision tool will take
What this tool will provide
A personalized list of factors for you to weigh
Questions to ask your doctor
Alternatives to these medications
Recommended reading
---
Review Date: 9/12/2010
Reviewed By: Linda J. Vorvick, MD, Medical Director, MEDEX Northwest Division of Physician Assistant Studies, University of Washington, School of Medicine. Also reviewed by David Zieve, MD, MHA, Medical Director, A.D.A.M., Inc.
---
References:
Blaiss MS. Safety considerations of intranasal corticosteroids for the treatment of allergic rhinitis. Allergy Asthma Proc. Mar-Apr 2007;28(2):145-52.
Calderon MA, Alves B, Jacobson M, Hurwitz B, Sheikh A, Durham S. Allergen injectin immunotheraphy for seasonal allergic rhinitis. Cochrane Database Syst Rev. Jan 24, 2007;(1):CD001936.
Meltzer EO. Evaluation of the optimal oral antihistamine for patients with allergic rhinitis. Mayo Clinic Proceedings. September 2005;80(9):1170-6.
Prenner BM, Schenkel E. Allergic rhinitis: treatment based on patient profiles. Am J Med. March 2006;119(3):230-7.
The information provided herein should not be used during any medical emergency or for the diagnosis or treatment of any medical condition. A licensed medical professional should be consulted for diagnosis and treatment of any and all medical conditions. Links to other sites are provided for information only -- they do not constitute endorsements of those other sites. © 1997- A.D.A.M., a business unit of Ebix, Inc. Any duplication or distribution of the information contained herein is strictly prohibited.