Severe obesity is a chronic condition that is difficult to treat through diet and exercise alone. Gastrointestinal surgery is a good option for people who are severely obese and cannot lose weight by traditional means or who suffer from serious obesity-related health problems. The surgery promotes weight loss by restricting food intake and, in some operations, interrupting the digestive process. As in other treatments for obesity, the best results are achieved with healthy eating behaviors and regular physical activity.
People who may consider gastrointestinal surgery include those with a body mass index (BMI) above 40 -- about 100 pounds overweight for men and 80 pounds for women (see our BMI chart). People with a BMI between 35 and 40 who suffer from type 2 diabetes or life-threatening cardiopulmonary problems, such as severe sleep apnea or obesity-related heart disease, may also be candidates for surgery.
The concept of gastrointestinal surgery to control obesity grew out of results of operations for cancer or severe ulcers that removed large portions of the stomach or small intestine. Because patients undergoing these procedures tended to lose weight after surgery, some physicians began to use such operations to treat severe obesity.
The first operation that was widely used for severe obesity was the intestinal bypass. This operation, first used 40 years ago, produced weight loss by causing malabsorption. The idea was that patients could eat large amounts of food, which would be poorly digested or passed along too fast for the body to absorb many calories. The problem with this surgery was that it caused a loss of essential nutrients and its side effects were unpredictable and sometimes fatal. The original form of the intestinal bypass operation is no longer used.
How does surgery promote weight loss?
Gastrointestinal surgery for obesity, also called bariatric surgery, alters the digestive process. These operations promote weight loss by closing off parts of the stomach to make it smaller. Operations that only reduce stomach size are known as restrictive operations because they restrict the amount of food the stomach can hold.
Some operations combine stomach restriction with a partial bypass of the small intestine. These procedures create a direct connection from the stomach to the lower segment of the small intestine, literally bypassing portions of the digestive tract that absorb calories and nutrients. These are known as malabsorptive operations.
There are several types of restrictive and malabsorptive operations. Each one carries its own benefits and risks.
Restrictive operations
Restrictive operations serve only to restrict food intake and do not interfere with the normal digestive process. To perform the surgery, doctors create a small pouch at the top of the stomach where food enters from the esophagus. Initially, the pouch holds about 1 ounce of food and later expands to 2 - 3 ounces. The lower outlet of the pouch usually has a diameter of only about 0.75". This small outlet delays the emptying of food from the pouch and causes a feeling of fullness.
As a result of this surgery, most people lose the ability to eat large amounts of food at one time. After an operation, the person usually can eat only 0.75 to 1 cup of food without discomfort or nausea. Also, food has to be chewed well.
The most frequently done restrictive operation for obesity is adjustable gastric banding (AGB).
Adjustable gastric banding
In this procedure, a hollow band made of special material is placed around the stomach near its upper end, creating a small pouch and a narrow passage into the larger remainder of the stomach. The band is then inflated with a salt solution. It can be tightened or loosened over time to change the size of the passage by increasing or decreasing the amount of salt solution.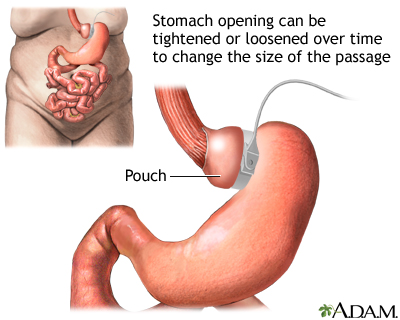 Malabsorptive operations
Malabsorptive operations are the most common gastrointestinal surgeries for weight loss. They restrict both food intake and the amount of calories and nutrients the body absorbs.
Roux-en-Y gastric bypass (RGB)
This operation is the most common and successful malabsorptive surgery. First, a small stomach pouch is created to restrict food intake. Next, a Y-shaped section of the small intestine is attached to the pouch to allow food to bypass the lower stomach, the duodenum (the first segment of the small intestine), and the first portion of the jejunum (the second segment of the small intestine). This bypass reduces the amount of calories and nutrients the body absorbs.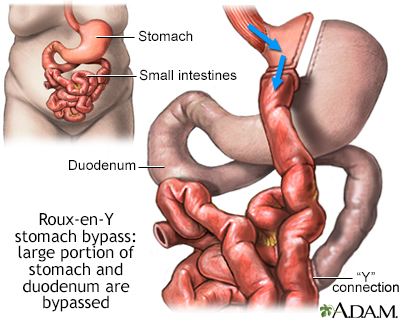 Biliopancreatic diversion (BPD)
In this more complicated malabsorptive operation, portions of the stomach are removed. The small pouch that remains is connected directly to the final segment of the small intestine, completely bypassing the duodenum and the jejunum. Although this procedure successfully promotes weight loss, it is less frequently used than other types of surgery because of the high risk for nutritional deficiencies.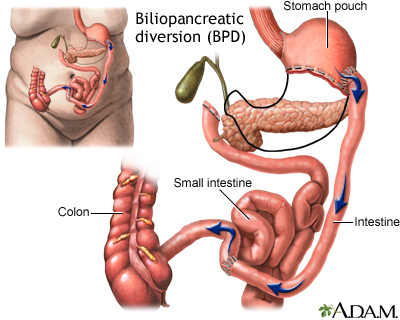 A variation of BPD is a "duodenal switch." This operation leaves a larger portion of the stomach intact, including the pyloric valve that regulates the release of stomach contents into the small intestine. It also keeps a small part of the duodenum in the digestive pathway.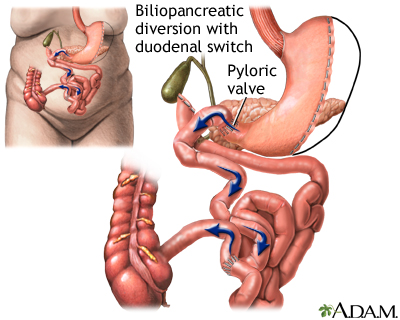 Malabsorptive operations produce more weight loss than restrictive operations, and are more effective in reversing the health problems associated with severe obesity. Patients who have malabsorptive operations generally lose two-thirds of their excess weight within 2 years.
In addition to the risks of restrictive surgeries, malabsorptive operations also carry greater risk for nutritional deficiencies. This is because the procedure causes food to bypass the duodenum and jejunum, where most iron and calcium are absorbed. Menstruating women may develop anemia because not enough iron and vitamin B12 are absorbed. Decreased absorption of calcium may also bring on osteoporosis and metabolic bone disease. Patients are required to take nutritional supplements that usually prevent these deficiencies. Patients who have the biliopancreatic diversion surgery must also take fat-soluble (dissolved by fat) vitamins A, D, E, and K supplements.
RGB and BPD operations may also cause "dumping syndrome." This means that stomach contents move too rapidly through the small intestine. Symptoms include nausea, weakness, sweating, faintness, and sometimes diarrhea after eating. Because the duodenal switch operation keeps the pyloric valve intact, it may reduce the likelihood of dumping syndrome.
The more extensive the bypass, the greater the risk for complications and nutritional deficiencies. Patients with extensive bypasses of the normal digestive process require close monitoring and life-long use of special foods, supplements, and medications.
Explore the benefits and risks
Surgery to produce weight loss is a serious undertaking. Anyone thinking about surgery should understand what the operation involves. Patients and physicians should carefully consider the following benefits and risks.
Benefits
Right after surgery, most patients lose weight quickly and continue to lose for 18 - 24 months after the procedure. Although most patients regain 5 - 10% of the weight they lost, many maintain a long-term weight loss of about 100 pounds.
Surgery improves most obesity-related conditions. For example, in one study blood sugar levels of 83 percent of obese patients with diabetes returned to normal after surgery. Nearly all patients whose blood sugar levels did not return to normal were older or had lived with diabetes for a long time.
Risks
Ten to 20% of patients who have weight-loss surgery require follow-up operations to correct complications. Abdominal hernia was the most common complication requiring follow-up surgery, but laparoscopic techniques seem to have solved this problem.
Some obese patients who have weight-loss surgery develop gallstones. Gallstones are clumps of cholesterol and other matter that form in the gallbladder. During rapid or substantial weight loss, your risk of developing gallstones increases. Taking supplemental bile salts for the first 6 months after surgery can prevent gallstones.
Nearly 30% of patients who have weight-loss surgery develop nutritional deficiencies such as anemia, osteoporosis, and metabolic bone disease. These deficiencies usually can be avoided if vitamin and mineral intakes are high enough.
Women of childbearing age should avoid pregnancy until their weight becomes stable because rapid weight loss and nutritional deficiencies can harm a developing fetus.
People who have weight-loss surgery have a high risk of developing blood clots in their legs. These clots can sometimes break off and travel to their lungs. This condition, known as pulmonary embolism, can be serious and sometimes fatal.
---
Review Date: 6/28/2011
Reviewed By: Jeffrey Heit, MD, Internist with special emphasis on preventive health, fitness and nutrition, Philadelphia VA Medical Center, Philadelphia, PA. Review provided by VeriMed Healthcare Network. Also reviewed by David Zieve, MD, MHA, Medical Director, A.D.A.M., Inc.
The information provided herein should not be used during any medical emergency or for the diagnosis or treatment of any medical condition. A licensed medical professional should be consulted for diagnosis and treatment of any and all medical conditions. Links to other sites are provided for information only -- they do not constitute endorsements of those other sites. © 1997- A.D.A.M., a business unit of Ebix, Inc. Any duplication or distribution of the information contained herein is strictly prohibited.